We offer a sustainable container system for 20 litre containers which, in conjunction with our shelf system, ensures optimal, clean and clear storage of our lubricants as well as their simple filling.
RAVENOL BAG IN BOX – SPACE SAVING, CLEAR, SIMPLE
The RAVENOL BAG IN BOX system consists of a robust carton and a plastic bag with an integrated drain tap. The stand ensures the safe transport of our quality lubricants as well as the space-saving and sustainable disposal of the container components. After emptying, the bag can be removed from the outer carton easily. The system offers space savings of up to 80% for empty containers in comparison to plastic containers.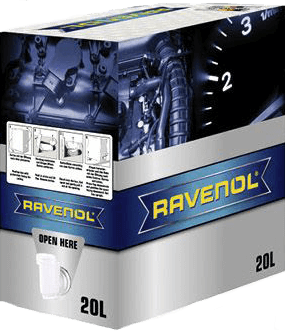 THE SPACE SAVING "BAG IN BOX" STAND IS IN TWO VERSIONS AVAILABLE
Both systems are equipped with an oil pan, which can be removed for disposal of residues and for cleaning. The drain taps are freely positioned, that ensures the simple and clean filling.
FEATURES AND BENEFITS OF THE RAVENOL BAG IN BOX STAND
MOBILE FRAME WITH LOCKABLE ROLLS

FLEXIBLE AND FAST STAND PLACEMENT OR STAND RELOCATION IS ENSURED

POWDER COATED FRAME IN RAVENOL BLUE

PROVIDES PROTECTION FROM EXTERNAL INFLUENCES (E.G. CORROSION)

SHELVES FOR 6/10-BAG-IN-BOX CONTAINER

SIZE SELECTION ACCORDING THE AVAILABLE WORKSHOP STORAGE CAPACITY

REMOVABLE OIL PAN

AVOIDS THE POLLUTION OF THE WORKSHOP OR GARAGE FLOORS

EDGES WITH RECESSES FOR THE DRAIN TAPS

ENSURES THE SIMPLE FILLING OF FLUIDS