Welcome at RAVENOL
We develop, produce and market high-quality lubricants that are equally well known in this country and on the international market. In our advanced, on-site laboratories, products are carefully developed to meet and exceed the requirements of the major automotive manufacturers and to comply with future regulations. The quality management system guarantees a high standard of product and this attention to detail is carried through from production to shipping.
We offer the customer a wide range of lubricants and cleaning products, including car and truck engine oils, racing oils, gear oils for automatic and manual transmissions and drive axles, as well as agricultural machinery products, hydraulic oils, industrial oils, specialty fats, high performance lubricants, car care products, cleaners, winter chemicals and engine coolant (anti-freeze).
RAVENOL is one of the most dynamic and capable brands for premium lubricant products in the world.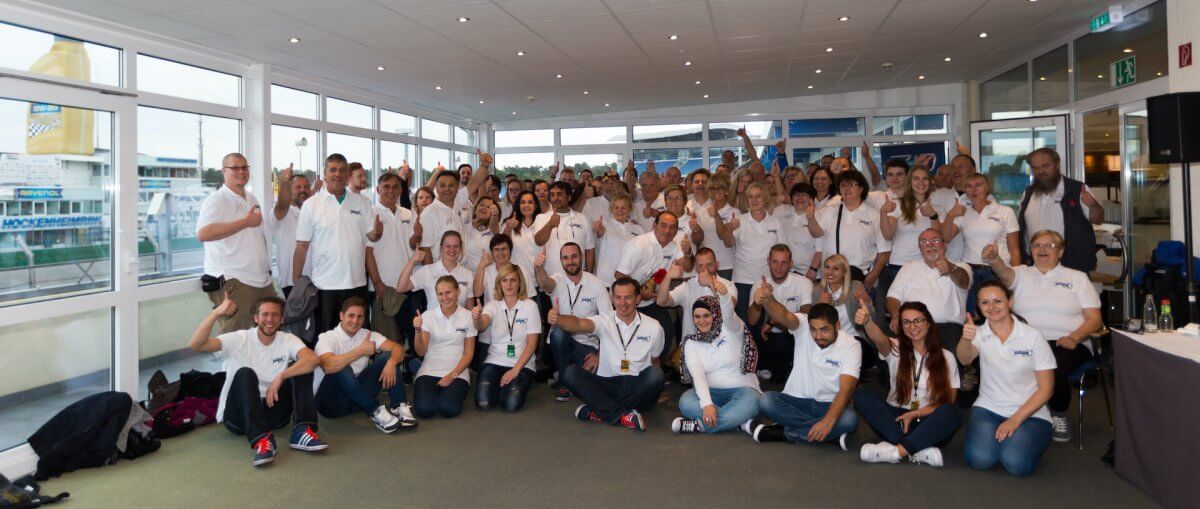 History
RAVENOL is the brand name of the Ravensberger Schmierstoffvertrieb GmbH which was founded in 1946 in the small town of Werther in Westphalia by Hans Triebel. Initially the company restricted its activities to the manufacture and sale of monograde engine oils and a selection of industrial cleaning products.

In 1964, with the modernization and expansion of the company, multigrade oils of SAE grades 10W-30 and 20W-50 were added to the range, whilst the range of car care products and cleaners was extended to include specialist items for bicycles and motorcycles. In the following years the range of car care products was steadily increased and the lubricants offered were extended to include the manufacture of semi-and fully synthetic oils.

The 1990s saw continuous expansion of sales activities at an international level and the RAVENOL brand gradually became known throughout many areas of the world. Nowadays, many businesses from the automotive, engineering, steel and construction sectors, as well as mining, agriculture and transport companies rely on RAVENOL-branded oils and lubricants, and RAVENOL products are now available to both commercial enterprises and motorists in over 80 countries.

We at RAVENOL recognize the growing demands being made by industries worldwide regarding diversity and quality, and are committed to extending and improving the RAVENOL product range. We understand that growth and modernization is always a necessary ongoing process in order to be competitive in the increasingly complex technical lubricants market.

The strategy of sustained growth was underlined by a comprehensive re-launch of the brand in autumn 2012. This forward- thinking policy is especially visible in the new product packaging, which has been modernized and optimized in both design and function.

Now RAVENOL is visually innovative, with modern and reliable products, and with a passion for excellence in lubrication. We are proud of our technology - "Made in Germany".

The Ravensberger Schmierstoffvertrieb GmbH was established by Habisch and Triebel in Werther specializing in Monograde Oils, Greases and industrial cleaning agents.
Registration of the brand name RAVENOL. Expansion of the product range to include industrial oils and coolants.
Introduction of multi-grade oils. Expansion of the automotive and bicycle care product ranges.
Construction and extension of the premises for the purpose of modernization and expansion of the production area.
Construction of a new warehouse and office building with adjoining second phase of construction in 1985.
Product range extended to include semi-synthetic and fully synthetic engine and gear oils. Expansion of the distribution network and the first brand re-launch.
Intensification of international sales activities. Renewed modernization of the production area.
Expansion and modernization of the laboratories. Investment in new equipment to optimize the production of engine oils.
Certification approval according to DIN EN ISO 9001:2000. First significant activity in global motorsport activities with racing lubricants. First appearances of the company at national and international trade fairs.
Further expansion of global business. Laboratory certification according to DIN EN IEC 17025:2005.
Further expansion of global business. Laboratory certification according to DIN EN / IEC 17025:2005.
Comprehensive Brand relaunch with modernised logo and new, futuristic design and optimisation of the product.
Anniversary year. RAVENOL is celebrating 70 years of providing dynamic, innovative products to customers in over 90 countries worldwide.
Partnership with the BWT Racing Point Formula One™ Team
Accreditation according to DIN EN ISO / IEC 17025: 2018, extension of the office space by expansion in the warehouse
The RAVENOL Group gets at the Lubmin location the first ship dock
Another anniversary year...RAVENOL celebrates its 75th anniversary with employees, customers and partners
Scuderia AlphaTauri is excited to announce a multi-year deal with RAVENOL as Official Lubricant Partner.
RAVENOL is "Official Supplier" in the Customer Racing Programme of Mercedes-AMG Motorsport